How to Rank Better on Yelp & Apple Maps
Apple Maps is here to stay and with several hundred million devices using it as their default map search by mid 2013, now is the time to ensure your business is positioned to rank well. So what's the key to Apple Maps? Well, you have to take a look at where they get their data. Taking a look at Apple Maps expert Andrew Shotland's recent slidedeck from SMX West, the key data sources in the U.S. are…
Business Listings:
Localeze
Acxiom
Factual
Review Data:
Yelp
So, step 1 for improving your Apple Maps rankings is to make sure your data is accurate, consistent, and as comprehensive as possible with the above data providers, then, make sure you're doing all that you can on Yelp.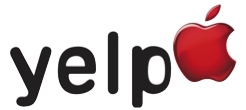 Yelp is one of the most important places (next to Google) that any local business can grow its online profile and reviews. If you've spent any time on Apple Maps you already know how much data it currently pulls from Yelp. Combine that with the fact that Siri, Apple's conversational iOS search assistant, uses Yelp as its go-to source for data on local businesses and it's easy to see why Yelp needs to be one of the top places you focus on building out your local profile.
Now that the importance of Yelp is crystal clear the big question is – How can you help your business rank better on Yelp? In a word…reviews!
Be sure Your listing is Claimed, Accurate and NOT Duplicated
However, before you get too focused on reviews it's vital that you take the time to be sure that your Yelp listing is accurate and up to date. You also need to be aware that, unlike many local directory sites, Yelp does NOT require verification before allowing users to post a new business listing. This leads to duplicate listings, which can be damaging to your business. They split up your reviews, confuse customers and can even compete with each other for rankings.
Yelp's community managers are supposed to manage duplicates, but we wouldn't recommend relying on that. You need to actively check for duplicate listings of your business and if you find any, email Yelp to have them removed as soon as possible. Of course, that doesn't stop another user from creating another new listing, so check back on a regular basis to be sure dupes aren't being created. For detailed information on removing duplicate Yelp listings as well as duplicates on other sites, please see this great post from Nyagoslav Zhekov.
Claiming (Yelp refers to it as unlocking) and actively managing your own listing(s) is how you get current hours, special offers and other details in front of perspective customers. You'll also be able you to receive alerts when new reviews are posted, allowing you to respond to them as needed. To get the most out of your claimed Yelp listing, follow the advice in this post on the Review Trackers blog.
How Does Yelp Rank Businesses?
Here's what Yelp says about its search algorithm:
How is the ranking of search results determined? Yelp's search results are based on an algorithm that is designed to provide the best results based on a number of different factors including review text, ratings, and number of reviews. We are constantly working on improving our search results so that we can deliver the most relevant local results to our users.
Yelp has always been ALL about community interaction and the prime driver of this interaction is reviews. Reviewers gain prominence for their opinions by being active members of the community. People who contribute a lot of reviews and interact frequently with other Yelpers can gain Elite Status. Those who don't participate much will have their reviews filtered out and rarely seen at all.
Here's a great video Yelp released explaining how reviews work within their system as well as how they filter them.
How Do You Increase Your Yelp Rankings?
The most obvious way to rank well in searches on Yelp is by getting more reviews than your competitors. However, the catch is that these reviews need to stick rather than get filtered out. Any efforts to get fans to leave their opinions on Yelp are totally wasted if those people aren't active Yelpers. So, logically you need to find an easy way to separate your customers so that you can push non-active Yelp users to a platform (like Google) where their reviews will have the most impact.
On the flip side, getting solid reviews from active and even Elite Yelpers can have a very powerful impact on your rankings. Here's what Yelp tells us about Elite Yelpers:0
What is the "Yelp Elite Squad"? The Yelp Elite Squad is our way of recognizing and rewarding yelpers who are active evangelists and role models, both on and off the site. Elite-worthiness is based on a number of things, including well-written reviews, a fleshed-out personal profile, an active voting and complimenting record, and playing nice with others. Members of the Elite Squad are designated by a shiny Elite badge on their account profile. If you think you or someone you know might be ready to be Yelp Elite, visit http://www.yelp.com/elite.
Here's an example of a Yelp Elite's profile and as you can see, much of it's related to community activity: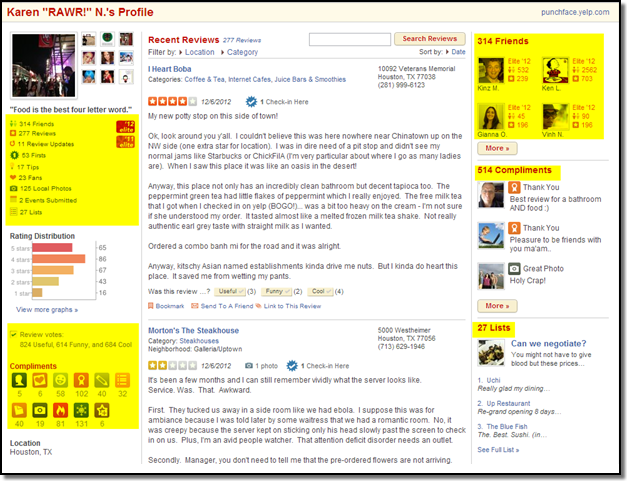 Elite Yelpers are so influential that some business owners have been caught offering to pay them for good reviews. Yelp will publicly shame you and add a "consumer alert" notice to your listing if they catch you trying to solicit reviews. They are very strict about NOT incentivizing reviews in any way. Doing so can result in the loss of your listing and being banned from the directory.
However, we still feel it's important that you know how to find those Elite users just in case one stumbles in your door or happens to already be a customer of yours. Use the following search in Google (hat tip to David Mihm) – be sure to change the city (san diego) to the one you're searching for:
"title="Elite 2012″"san diego site: yelp.com/user_details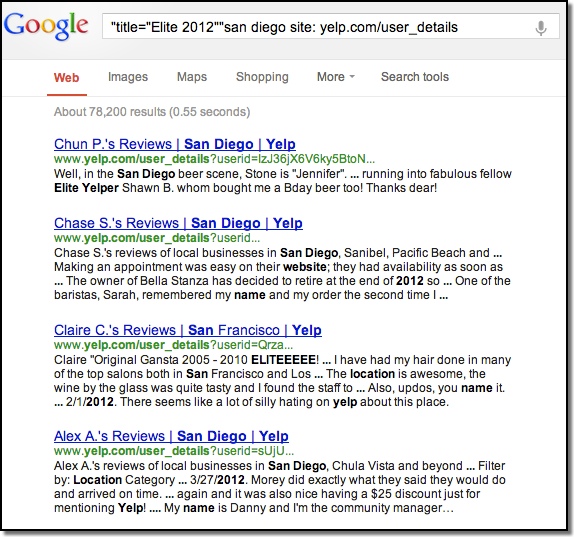 Yelp users may choose to sort their search by Highest Rated. Face it, you want to go to the best places, not the mediocre ones, so getting good ratings will get your listing in front of more Yelpers in cases like this.
Yelp also looks for useful details when answering a search from within its reviews interface. So, if reviewers tend to rave about your egg rolls in reviews, you have a better chance of ranking well for egg rolls than other Chinese restaurants. You can try to influence customers to mention the longer tail terms in their reviews that you really want to rank well for by offering specials and coupons for them.
The Yelp results for egg rolls in Houston are much different than the results for Chinese restaurant because Yelp ranks the highest rated restaurants that also have egg rolls mentioned in reviews about them: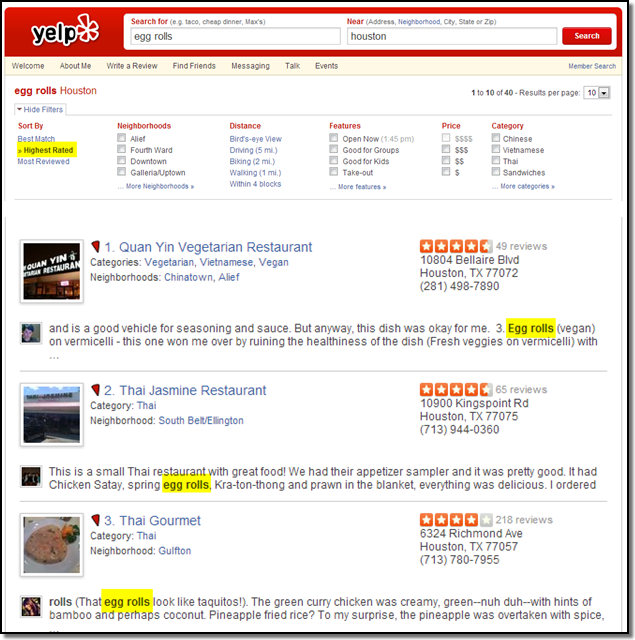 Searchers can also sort their results by Best Match. If you're smart enough to have a good keyword term in your business name, that'll help you rank for that term if it's searched for. However, this won't work for generic terms, like Chinese Restaurant but is effective for longer tail queries, like egg rolls.
Name, address and phone number (NAP) consistency are always important to your local search rankings efforts. So be sure that your Yelp listing matches what's on your website, at Localeze, Acxiom and Factual, and in all the other trusted online directories you have profiles.
Check ins are also growing in importance – the more the better. Since you can now check in to a venue directly from Apple Maps, the overall number of check ins on Yelp will increase and may have even more of an impact on rankings in the future. Only time will tell on that one but be prepared.
Apple Maps will continue to improve and grow over time. It's already on hundreds of millions of iDevices and rumor has it that it'll soon be part of the new MAC OS X, which will put it on Mac desktops and laptops, too. With that many people getting Apple Maps as their default map, ranking well matters and right now, ranking well in Yelp is the best way to get there.
Here's to working smart instead of hard!

Brought to you by the experts at SearchEngineNews.com. Who have had their finger on the pulse of the SEO industry for 16 years. Reading every mainstream blog, talking with industry insiders and separating what works from what doesn't – ALL so you don't have to. Learn more and qualify for a FREE copy of their Award Winning SEO Book Today!